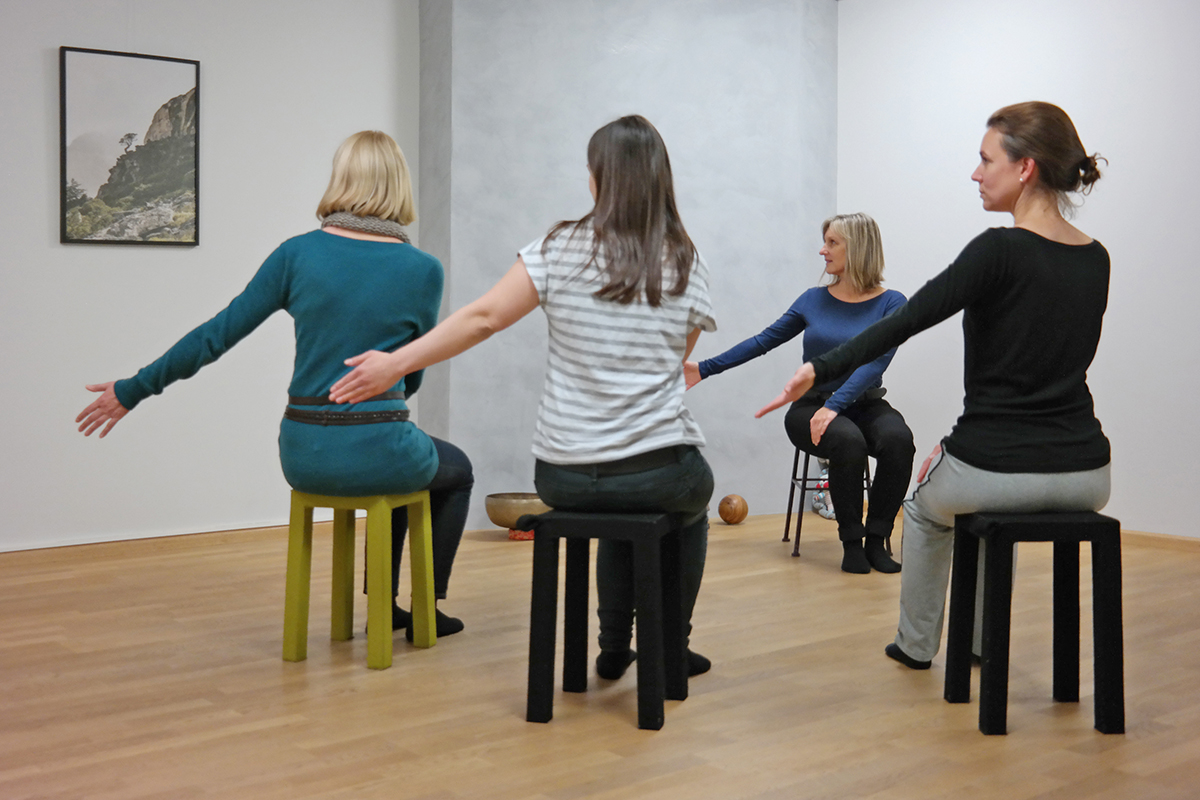 Traumasensitive Yoga (TSY)
When individuals have had traumatic experiences, it can be a major challenge to "stay" in the body since the overwhelming memories trigger uncontrollable physical reactions. This can be so frightening that they split off from their physical experiencing, which means that a feeling of numbness or non-existence of body parts, entire body regions, or the entire body occurs. So the body sensations should be approached in a gentle way.
Trauma-Sensitive Yoga (TCTSY - Trauma Center Trauma-Sensitive Yoga) is a body- and movement-centered method, which was developed at the Trauma Center Brookline by Bessel van der Kolk, David Emerson, and his team. In Trauma-Sensitive Yoga, we practice postures (asanas) and breath control (pranayama) with each other. Above all, this takes into account coping with traumatic stress. This is not about sports or performance. The focus of the training is on the mindful perception of physical sensations and supporting the affected persons in being able to observe the emotional and physical reactions without becoming flooded and overwhelmed by them. This is a "bottom-up" approach that assumes we can change post-traumatic symptoms through the body and not just "top-down" through changed thinking and cognitive processes.
I offer individual TSY sessions and TSY groups in English. If you are interested, please contact me.
I also use TSY in the individual therapy during the treatment of PTSD (post-traumatic stress disorder). It serves the stabilization, affect regulation, and self-regulation. This will help you to once again attain a sense of safety and control, which are important preconditions for being able to open up to an exposure therapy. Above all, the gentle, body-oriented approach is appropriate when you feel that you are easily overcome by your emotions or tend to dissociate - which means that you split off from the here and now. The approach of TSY offers you a gentle starting point to improving your affect regulation. It provides concrete tools for you to cope with everyday life.
It is possible to attend TSY sessions while having trauma therapy with your trauma therapist.
I offer regular TCTSY groups.
=> Procedure => Seminar Registry
Principles
Experiencing the current moment: You can stay in the here and now
Using the choices: You adapt the exercises to your own needs
Performing effective actions: You allow yourself to do something so that you feel safer, better, etc. such as changing a posture or putting a pillow beneath your body
Perceiving the rhythm of your body: Through breath and movement, you learn how to experience a synchronicity within your body together with others
Repetition instead of variety: You experience safety through what is familiar and achievable
TCTSY is not a work-out; it is a work-in: The focus is on mindfulness, the observation of interoceptive (within the body) processes
Movement instead of rigidity: Breath and body movements promote the feeling of coming out of the numbing and becoming capable of taking action
Therapy Goals
Building resources
Improving affect regulation, self-regulation, and self-control
Learning to differentiate between feelings and physical sensations
Changing frozen posture and movement patterns
Experiencing moments of relaxation
Being able to stay in the present
Changing your self-concepts in a positive way and once again believing in yourself
Reducing the states of tension in your body
Feeling safe and good in your body again
A trauma does not occur in the mind or body – it has an effect on your entire being. Since the triggers are frequently found within yourself, you feel flooded by emotions and sensations or even numb and cut off. Your body reacts as if the danger still existed – the body is not a safe place. Trauma-Sensitive Yoga (TSY) as an element of a comprehensive, gentle trauma therapy is a body-oriented approach that uses the wisdom of the mind and body to heal traumas. The mindful and gentle yoga practice helps in regaining body awareness, being in the here and now , and observing without reacting – which is a basic precondition for facing the traumatic memories. Consciously performed postures (asanas) and breath exercises (pranayama) regulate the nervous system and help you to feel better grounded, stronger, and calmer. This allows you to attain more control over your thoughts, emotions, and physical reactions.
Statements by participants:
"Despite the stress in the group setting, I have had the experience of how strongly 'doing' things together connects us: being in a safe framework and without the pressure of having to work toward a specific goal. I can't remember ever having felt like I belonged to a group and was accepted. For me, doing yoga meant a safe ground and a place in a group that didn't overwhelm me."
"Even though the group is small, I still have a hard time when it comes to relaxing; but it was also great that we can laugh together. I'm happy that everyone is busy with themselves and I don't feel like anyone is watching me – not even the instructor. Over time, it has become easier for me to be in the group."
Sequence of groups
The group sessions last 50 minutes.
We practice in "normal" street clothes while sitting on chairs and/or in a standing position. If everyone agrees, we can also use yoga mats.
The groups are separated according to gender.
The exercises and instructions are designed so that the focus is on each person's inner experience.
The offer of alternatives allows participants the choice of how, how long, how intensively, etc. they want to do the asana or breath exercise.
I only correct verbally or by example and never by touch. I also only correct when there is the possibility that participants could injure themselves. I do not address "errors," so no one needs to fear being embarrassed.
There are no right or wrong ways to perform an asana.
I demonstrate the respective exercises and alternatives. The participants practice the variations that appeal to them.
I accompany the group with my voice
TSY group for women: Dates upon request.
What you can expect: Small groups with 3 to max. 5 participants; separated according to gender. Yoga positions and breath exercises on the chair; if agreed upon, on the mat
Preconditions: The exercises are gentle - not sporty! You do not need to be top fit or very flexible. You do not need to have any experience with yoga. I offer a brief preliminary conversation on the telephone or in person so that we can get to know each other first
Possibilities of settings: Yoga groups - I offer blocks of 8 yoga sessions. Individual hours to accompaniment your therapy - if you like, also together with your therapist
Pricing: A course of 8x Trauma-Sensitive Yoga costs CHF 320. Individual hours cost CHF 150. Special rates are available for people with low incomes and students. Feel free to contact me. It is possible that your complementary health insurance will contribute to the costs for yoga, so ask your health insurance provider for information.
Videos: Trauma-sensitive yoga program on the chair & mat
Registration TSY Group Courses
General Terms & Conditions
Organizer: Institute for Body-Oriented Trauma Therapy
Seminar sequence: The seminars last 50 minutes each. The seminar fee must be transferred in advance per seminar to the account of Dagmar Härle at the Basel Kantonalbank, Basel, IBAN CH11 0077 0016 5430 1493 6. Registration is only binding after the course fee has been booked to the bank account. If a participant cancels at least 7 days before the start of the seminar, the entire seminar fee will be refunded. After this time, 40% will be invoiced as the fee to cover costs. A claim to have the seminar conducted only exists when there is a minimum number of 3 participants. If this is not the case, the organizer may determine a replacement date or cancel the seminar (also on short notice) without a claim to compensation for damages on the part of the participants. In the case of a cancellation, the course fee will obviously be refunded. The maximum number of participants is 5. The organizer will keep a waiting list after the registrations have been received. This is not subject to legal recourse. With the registration for a TSY course, the participants accept the above General Terms and Conditions.